Female Warrior/Cleric with Weapon Options x3
Item Code: DSM7468
This miniature comes with three different weapon options on a sprue inside the blister pack so you can pick out whatever weapon you like best for your mini once you have it there in front of you. The weapon sprue includes a sword, a mace and a warhammer. Please see the details for pics.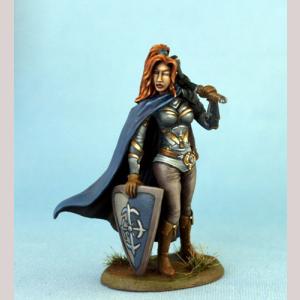 The miniatures are not pre-painted!
All items come in bare pewter metal.
Assembly required on some figures.
Some sets contain small parts.
Not suitable for children under 14 years of age.
Our Recommendation:
Similar Models:

Image
Description
Price
Cart
Pinup Female Warrior in Chainmail
DSM1103


In Stock:

(stock may drop shortly)

11,99 €



Add to Cart

Pinup Female Warrior in Chainmail #2
DSM1108


In Stock:

(stock may drop shortly)

11,99 €



Add to Cart

Pinup Female Warrior in Chainmail #3
DSM1116


In Stock:

(stock may drop shortly)

11,99 €



Add to Cart

Pinup Female Warrior in Chainmail #4
DSM1117


In Stock:

(stock may drop shortly)

11,99 €



Add to Cart

Female Amazon
DSM1119


In Stock:

(stock may drop shortly)

11,99 €



Add to Cart

Female Warrior - Red Cloak
DSM1123


In Stock:

(stock may drop shortly)

11,99 €



Add to Cart

Female Warrior - Journey to the Gathering
DSM1124


In Stock:

(stock may drop shortly)

11,99 €



Add to Cart

Pinup Female Amazon Warrior with Sword
DSM1130


In Stock:

(stock may drop shortly)

11,99 €



Add to Cart

Female Warrior - Evening Rest
DSM1133


In Stock:

(stock may drop shortly)

11,99 €



Add to Cart

Female Warrior - Waiting for Shadamehr
DSM1137


In Stock:

(stock may drop shortly)

11,99 €



Add to Cart

Female Ranger - Mind of the Magic
DSM3102


In Stock:

(stock may drop shortly)

11,99 €



Add to Cart

Female Warrior - Survivors
DSM3104


In Stock:

(stock may drop shortly)

11,99 €



Add to Cart

Female Fighter - Dragon's Blood
DSM3106


In Stock:

(stock may drop shortly)

11,99 €



Add to Cart

Female Warrior with Sword
DSM7108


In Stock:

(stock may drop shortly)

11,99 €



Add to Cart

Female Warrior - Desert Wings
DSM2102


In Stock:

(stock may drop shortly)

11,99 €



Add to Cart

Female Valkyrie
DSM2104


In Stock:

(stock may drop shortly)

11,99 €



Add to Cart

Limited Edition 2003 Elmore Amazon
DSM1301


In Stock:

(stock may drop shortly)

11,99 €



Add to Cart

Limited Edition 2004 Elmore Amazon
DSM1302


In Stock:

(stock may drop shortly)

11,99 €



Add to Cart

Limited Edition 2005 Elmore Amazon
DSM1303


In Stock:

(stock may drop shortly)

11,99 €



Add to Cart

Limited Edition 2005 Caldwell Amazon
DSM3201


In Stock:

(stock may drop shortly)

11,99 €



Add to Cart

Limited Edition 2006 Elmore Amazon
DSM1304


In Stock:

(stock may drop shortly)

11,99 €



Add to Cart

Oriental Babe
DSM2115


In Stock:

(stock may drop shortly)

11,99 €



Add to Cart

Barbarian Babe
DSM2117


In Stock:

(stock may drop shortly)

11,99 €



Add to Cart

Female Warrior - The Power and the Protector
DSM1144


In Stock:

(stock may drop shortly)

11,99 €



Add to Cart

Female Warrior - Dangerous Journey
DSM1147


In Stock:

(stock may drop shortly)

11,99 €



Add to Cart

Pinup Female Fighter
DSM1149


In Stock:

(stock may drop shortly)

11,99 €



Add to Cart

Female Dual Wield Fighter
DSM1151


In Stock:

(stock may drop shortly)

11,99 €



Add to Cart

Female Amazon with Bastard Sword (Olga)
DSM7204


In Stock:

(stock may drop shortly)

11,99 €



Add to Cart

Female Cavalier with Sword & Shield
DSM7206


In Stock:

(stock may drop shortly)

11,99 €



Add to Cart

5th Anniversary Miniature Set
DSM1309


In Stock:

(stock may drop shortly)

17,99 €



Add to Cart

Female Fighter with Sword and Shield
DSM1155


In Stock:

(stock may drop shortly)

11,99 €



Add to Cart

Female Goth Warrior with Sword
DSM1160


In Stock:

(stock may drop shortly)

11,99 €



Add to Cart

Female Paladin with Sword/Morning Star Weapon options
DSM7404


In Stock:

(stock may drop shortly)

11,99 €



Add to Cart

Wildling Spearwife with Short Sword and Shield
DSM5019


In Stock:

(stock may drop shortly)

11,99 €



Add to Cart

Wildling Spearwife with Bow
DSM5020


In Stock:

11,99 €



Add to Cart

Female Warrior with Long Sword and Shield
DSM7210


In Stock:

(stock may drop shortly)

11,99 €



Add to Cart

Female Royal Guard
DSM1163


In Stock:

(stock may drop shortly)

11,99 €



Add to Cart

Asha Greyjoy
DSM5028


In Stock:

(stock may drop shortly)

11,99 €



Add to Cart

Ygritte
DSM5029


In Stock:

(stock may drop shortly)

11,99 €



Add to Cart

Female Anti-Paladin with Sword and Shield
DSM7508


In Stock:

(stock may drop shortly)

11,99 €



Add to Cart

Female Dual Wield Warrior
DSM1165


In Stock:

(stock may drop shortly)

11,99 €



Add to Cart

Brienne
DSM5034


In Stock:

(stock may drop shortly)

11,99 €



Add to Cart

Classic Female Barbarian (CMON Limited Edition)
DSM7512


In Stock:

(stock may drop shortly)

19,99 €



Add to Cart

Female Blind Warrior
DSM7418


In Stock:

11,99 €



Add to Cart

Amazon Warrior
DSM7422


In Stock:

(stock may drop shortly)

11,99 €



Add to Cart

SteamPunk "Jen Haley"
DSM7513


In Stock:

(stock may drop shortly)

17,99 €



Add to Cart

Female Paladin
DSM4114


In Stock:

(stock may drop shortly)

11,99 €



Add to Cart

Female Fighter with Long Sword
DSM4115


In Stock:

11,99 €



Add to Cart

Amazon with Two Handed Sword
DSM1169


In Stock:

(stock may drop shortly)

11,99 €



Add to Cart

Female Undead Hunter
DSM7433


In Stock:

(stock may drop shortly)

11,99 €



Add to Cart

Pinup Female Warrior
DSM1174


In Stock:

(stock may drop shortly)

11,99 €



Add to Cart

The Signal - Female Archer
DSM1175


In Stock:

(stock may drop shortly)

11,99 €



Add to Cart

SteamPunk Babe
DSM7518


In Stock:

(stock may drop shortly)

17,99 €



Add to Cart

Ecto Body Type - Female Feral Warrior
DSM7520


In Stock:

(stock may drop shortly)

14,99 €



Add to Cart

Meso Body Type - Female Spartan Warrior
DSM7522


In Stock:

(stock may drop shortly)

14,99 €



Add to Cart

Barbarian Queen
DSM7523


In Stock:

(stock may drop shortly)

11,99 €



Add to Cart

Female Amazon at Rest
DSM1186


In Stock:

(stock may drop shortly)

11,99 €



Add to Cart

Female Amazon Warrior
DSM1190


In Stock:

(stock may drop shortly)

11,99 €



Add to Cart

Mounted Female Warrior
DSM1191


In Stock:

(stock may drop shortly)

24,99 €



Add to Cart

Female Barbarian
DSM7446


In Stock:

(stock may drop shortly)

11,99 €



Add to Cart

Osha - Female Wildling with Spear
DSM5118


In Stock:

(stock may drop shortly)

14,99 €



Add to Cart

Obara Sand - Sand Snake
DSM5121


In Stock:

(stock may drop shortly)

14,99 €



Add to Cart

Angelica - Female Half Elven Warrior with Sword
DSM4613


In Stock:

(stock may drop shortly)

11,99 €



Add to Cart

Pinup Female Warrior
DSM7541


In Stock:

(stock may drop shortly)

11,99 €



Add to Cart

Female Warrior with Sword and Shield
DSM7322


In Stock:

(stock may drop shortly)

11,99 €



Add to Cart

Female Warrior with Two Handed Sword
DSM7467


In Stock:

(stock may drop shortly)

11,99 €



Add to Cart

Female Warrior - Dual Wield
DSM7625


In Stock:

(stock may drop shortly)

11,99 €



Add to Cart

Female Paladin with Sword and Banner
DSM7631


In Stock:

(stock may drop shortly)

11,99 €



Add to Cart

Female Cavalier with Long Sword
DSM7323


In Stock:

(stock may drop shortly)

11,99 €



Add to Cart

Female Warrior with Long Sword
DSM7482


In Stock:

(stock may drop shortly)

11,99 €



Add to Cart

Female Warrior with Crossbow
DSM7480


In Stock:

(stock may drop shortly)

11,99 €



Add to Cart

Crouching Female Warrior
DSM1311


In Stock:

(stock may drop shortly)

11,99 €



Add to Cart

Female Eastern Warrior
DSM7494


In Stock:

(stock may drop shortly)

11,99 €



Add to Cart

Female Warrior - Dual Wield
DSM7372


In Stock:

(stock may drop shortly)

11,99 €



Add to Cart

Marching Female Warrior
DSM7377


In Stock:

(stock may drop shortly)

11,99 €



Add to Cart

Female Warrior with Great Axe
DSM7392


In Stock:

(stock may drop shortly)

11,99 €



Add to Cart

Female Warrior with Dragon Helm
DSM7213


In Stock:

(stock may drop shortly)

11,99 €



Add to Cart

Maid Marian – Woodland Garb
DSM7218


In Stock:

(stock may drop shortly)

11,99 €



Add to Cart
14,99 €


Add to cart

In Stock:

(stock may drop shortly)