Female Paladin with Sword/Morning Star Weapon options
Item Code: DSM7404
We included a sword option after the fact as we did not want to turn people off that loved the miniature but their character did not use a Morning Star.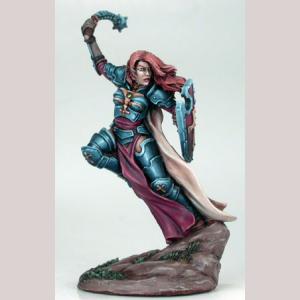 The miniatures are not pre-painted!
All items come in bare pewter metal.
Assembly required on some figures.
Some sets contain small parts.
Not suitable for children under 14 years of age.
Our Recommendation:
Similar Models:

Image
Description
Price
Cart
Pinup Female Warrior in Chainmail
DSM1103


In Stock:

(stock may drop shortly)

11,99 €



Add to Cart

Pinup Female Warrior in Chainmail #2
DSM1108


In Stock:

(stock may drop shortly)

11,99 €



Add to Cart

Pinup Female Warrior in Chainmail #3
DSM1116


In Stock:

(stock may drop shortly)

11,99 €



Add to Cart

Pinup Female Warrior in Chainmail #4
DSM1117


In Stock:

(stock may drop shortly)

11,99 €



Add to Cart

Female Amazon
DSM1119


In Stock:

(stock may drop shortly)

11,99 €



Add to Cart

Female Warrior - Red Cloak
DSM1123


In Stock:

(stock may drop shortly)

11,99 €



Add to Cart

Female Warrior - Journey to the Gathering
DSM1124


In Stock:

(stock may drop shortly)

11,99 €



Add to Cart

Pinup Female Amazon Warrior with Sword
DSM1130


In Stock:

(stock may drop shortly)

11,99 €



Add to Cart

Female Warrior - Evening Rest
DSM1133


In Stock:

(stock may drop shortly)

11,99 €



Add to Cart

Female Warrior - Waiting for Shadamehr
DSM1137


In Stock:

(stock may drop shortly)

11,99 €



Add to Cart

Female Ranger - Mind of the Magic
DSM3102


In Stock:

(stock may drop shortly)

11,99 €



Add to Cart

Female Warrior - Survivors
DSM3104


In Stock:

(stock may drop shortly)

11,99 €



Add to Cart

Female Fighter - Dragon's Blood
DSM3106


In Stock:

(stock may drop shortly)

11,99 €



Add to Cart

Female Warrior with Sword
DSM7108


In Stock:

(stock may drop shortly)

11,99 €



Add to Cart

Female Warrior - Desert Wings
DSM2102


In Stock:

(stock may drop shortly)

11,99 €



Add to Cart

Female Valkyrie
DSM2104


In Stock:

(stock may drop shortly)

11,99 €



Add to Cart

Limited Edition 2003 Elmore Amazon
DSM1301


In Stock:

(stock may drop shortly)

11,99 €



Add to Cart

Limited Edition 2004 Elmore Amazon
DSM1302


In Stock:

(stock may drop shortly)

11,99 €



Add to Cart

Limited Edition 2005 Elmore Amazon
DSM1303


In Stock:

(stock may drop shortly)

11,99 €



Add to Cart

Limited Edition 2005 Caldwell Amazon
DSM3201


In Stock:

(stock may drop shortly)

11,99 €



Add to Cart

Limited Edition 2006 Elmore Amazon
DSM1304


In Stock:

(stock may drop shortly)

11,99 €



Add to Cart

Oriental Babe
DSM2115


In Stock:

(stock may drop shortly)

11,99 €



Add to Cart

Barbarian Babe
DSM2117


In Stock:

(stock may drop shortly)

11,99 €



Add to Cart

Female Warrior - The Power and the Protector
DSM1144


In Stock:

(stock may drop shortly)

11,99 €



Add to Cart

Female Warrior - Dangerous Journey
DSM1147


In Stock:

(stock may drop shortly)

11,99 €



Add to Cart

Pinup Female Fighter
DSM1149


In Stock:

(stock may drop shortly)

11,99 €



Add to Cart

Female Dual Wield Fighter
DSM1151


In Stock:

(stock may drop shortly)

11,99 €



Add to Cart

Female Amazon with Bastard Sword (Olga)
DSM7204


In Stock:

(stock may drop shortly)

11,99 €



Add to Cart

Female Cavalier with Sword & Shield
DSM7206


In Stock:

(stock may drop shortly)

11,99 €



Add to Cart

5th Anniversary Miniature Set
DSM1309


In Stock:

(stock may drop shortly)

17,99 €



Add to Cart

Female Fighter with Sword and Shield
DSM1155


In Stock:

(stock may drop shortly)

11,99 €



Add to Cart

Female Goth Warrior with Sword
DSM1160


In Stock:

(stock may drop shortly)

11,99 €



Add to Cart

Wildling Spearwife with Short Sword and Shield
DSM5019


In Stock:

(stock may drop shortly)

11,99 €



Add to Cart

Wildling Spearwife with Bow
DSM5020


In Stock:

11,99 €



Add to Cart

Female Warrior with Long Sword and Shield
DSM7210


In Stock:

(stock may drop shortly)

11,99 €



Add to Cart

Female Royal Guard
DSM1163


In Stock:

(stock may drop shortly)

11,99 €



Add to Cart

Asha Greyjoy
DSM5028


In Stock:

(stock may drop shortly)

11,99 €



Add to Cart

Ygritte
DSM5029


In Stock:

(stock may drop shortly)

11,99 €



Add to Cart

Female Anti-Paladin with Sword and Shield
DSM7508


In Stock:

(stock may drop shortly)

11,99 €



Add to Cart

Female Dual Wield Warrior
DSM1165


In Stock:

(stock may drop shortly)

11,99 €



Add to Cart

Brienne
DSM5034


In Stock:

(stock may drop shortly)

11,99 €



Add to Cart

Classic Female Barbarian (CMON Limited Edition)
DSM7512


In Stock:

(stock may drop shortly)

19,99 €



Add to Cart

Female Blind Warrior
DSM7418


In Stock:

11,99 €



Add to Cart

Amazon Warrior
DSM7422


In Stock:

(stock may drop shortly)

11,99 €



Add to Cart

SteamPunk "Jen Haley"
DSM7513


In Stock:

(stock may drop shortly)

17,99 €



Add to Cart

Female Paladin
DSM4114


In Stock:

(stock may drop shortly)

11,99 €



Add to Cart

Female Fighter with Long Sword
DSM4115


In Stock:

11,99 €



Add to Cart

Amazon with Two Handed Sword
DSM1169


In Stock:

(stock may drop shortly)

11,99 €



Add to Cart

Female Undead Hunter
DSM7433


In Stock:

(stock may drop shortly)

11,99 €



Add to Cart

Pinup Female Warrior
DSM1174


In Stock:

(stock may drop shortly)

11,99 €



Add to Cart

The Signal - Female Archer
DSM1175


In Stock:

(stock may drop shortly)

11,99 €



Add to Cart

SteamPunk Babe
DSM7518


In Stock:

(stock may drop shortly)

17,99 €



Add to Cart

Ecto Body Type - Female Feral Warrior
DSM7520


In Stock:

(stock may drop shortly)

14,99 €



Add to Cart

Meso Body Type - Female Spartan Warrior
DSM7522


In Stock:

(stock may drop shortly)

14,99 €



Add to Cart

Barbarian Queen
DSM7523


In Stock:

(stock may drop shortly)

11,99 €



Add to Cart

Female Amazon at Rest
DSM1186


In Stock:

(stock may drop shortly)

11,99 €



Add to Cart

Female Amazon Warrior
DSM1190


In Stock:

(stock may drop shortly)

11,99 €



Add to Cart

Mounted Female Warrior
DSM1191


In Stock:

(stock may drop shortly)

24,99 €



Add to Cart

Female Barbarian
DSM7446


In Stock:

(stock may drop shortly)

11,99 €



Add to Cart

Osha - Female Wildling with Spear
DSM5118


In Stock:

(stock may drop shortly)

14,99 €



Add to Cart

Obara Sand - Sand Snake
DSM5121


In Stock:

(stock may drop shortly)

14,99 €



Add to Cart

Angelica - Female Half Elven Warrior with Sword
DSM4613


In Stock:

(stock may drop shortly)

11,99 €



Add to Cart

Pinup Female Warrior
DSM7541


In Stock:

(stock may drop shortly)

11,99 €



Add to Cart

Female Warrior with Sword and Shield
DSM7322


In Stock:

(stock may drop shortly)

11,99 €



Add to Cart

Female Warrior with Two Handed Sword
DSM7467


In Stock:

(stock may drop shortly)

11,99 €



Add to Cart

Female Warrior - Dual Wield
DSM7625


In Stock:

(stock may drop shortly)

11,99 €



Add to Cart

Female Paladin with Sword and Banner
DSM7631


In Stock:

(stock may drop shortly)

11,99 €



Add to Cart

Female Cavalier with Long Sword
DSM7323


In Stock:

(stock may drop shortly)

11,99 €



Add to Cart

Female Warrior/Cleric with Weapon Options x3
DSM7468


In Stock:

(stock may drop shortly)

14,99 €



Add to Cart

Female Warrior with Long Sword
DSM7482


In Stock:

(stock may drop shortly)

11,99 €



Add to Cart

Female Warrior with Crossbow
DSM7480


In Stock:

(stock may drop shortly)

11,99 €



Add to Cart

Crouching Female Warrior
DSM1311


In Stock:

(stock may drop shortly)

11,99 €



Add to Cart

Female Eastern Warrior
DSM7494


In Stock:

(stock may drop shortly)

11,99 €



Add to Cart

Female Warrior - Dual Wield
DSM7372


In Stock:

(stock may drop shortly)

11,99 €



Add to Cart

Marching Female Warrior
DSM7377


In Stock:

(stock may drop shortly)

11,99 €



Add to Cart

Female Warrior with Great Axe
DSM7392


In Stock:

(stock may drop shortly)

11,99 €



Add to Cart

Female Warrior with Dragon Helm
DSM7213


In Stock:

(stock may drop shortly)

11,99 €



Add to Cart

Maid Marian – Woodland Garb
DSM7218


In Stock:

(stock may drop shortly)

11,99 €



Add to Cart
11,99 €


Add to cart

In Stock:

(stock may drop shortly)